There's always a beginning. This post is the story of our SEO journey, updated every month.
It is a live showdown of what we are doing behind the scenes here at Astute Digital to grow our website – https://astutedigital.coza – into the most visited digital marketing content hub in the continent. Hopefully, it will position us as the go-to Search Engine Optimization (SEO) agency in South Africa and beyond the expanse of the African continent.
If you wonder where and how to begin SEO for your website, hop in, only ready yourself for a long and winding journey.
The purpose of this post is not just to demonstrate the prowess of our SEO genius, but to build a live SEO case study on how you can go from zero with a new website to hero dominating Google and driving a flood of sales to your business.
Don't be comfortable with a website that only adds value to a glossy business card. No, Never, Abomination. A website should help your business grow.
Ready? Buckle up.
Month 1: The Beginning of our SEO Case Study.
It's August 2020, two minds, Petrus and Joshua, each battle-tested digital marketers brood over the idea of getting their skills under one roof. And there was Astute Digital along with Khenen, could we say, the glue.
We get to work.
The Planning
Our quest was to know the role SEO will play in the growth of Astute Digital. We are our 'first' client. Like every new client, we step back, sharpen our pencils and get to the drawing board.
The result: A digital marketing plan and a content marketing strategy.
You need one for your business/website, need help with it? Hire our agency to create a plan aligned to your business goals.
Essential Components of a digital marketing plan: the case for digital marketing for business growth, your target audience, the digital platforms to reach the audience, how and what you will do to extend your reach.
With clear targets in mind, we are ready for the journey.
2020/08/12 19:20:27 – astutedigital.co.za is registered with afrihost.com. Yes, it always begins with a domain name.
Month 2: We build a website and lay the ground for content creation.
The tech stack powering our website besides the infrastructure of our host is WordPress for the content management system and 16 other plugins (for now).
With a website launched, the easy part of getting your business online is done, now begins the real work.
To give us a baseline for tracking and measuring progress, we use data.
For that, we rely on a bunch of SEO tools; Ahrefs, SEMrush, Moz, Ubersuggest, Screaming frog, SEO power suite, among others.
Following the guide of our content marketing plan, using data from SEO tools, we can identify the traffic-driving content of our competitors and the content gaps we could explore.
Keywords to target and topics to cover are ready; it's time to marshal up the word pundits, designers, and bug hunters.
Our SEO numbers as of 2020 September 27.
DA (MOZ)
Backlinks (Ahrefs)
Search Traffic (GSC)
Content
Leads
N/A
3
7
Pages – 5
Posts – 0
0
Domain authority.
Google stopped using the page rank in metric in results placements, but there's a correlation between the websites that sit on the first page of SERPs and their domain authority (a page rank equivalent by MOZ).
A query of astutedigital.co.za in MOZ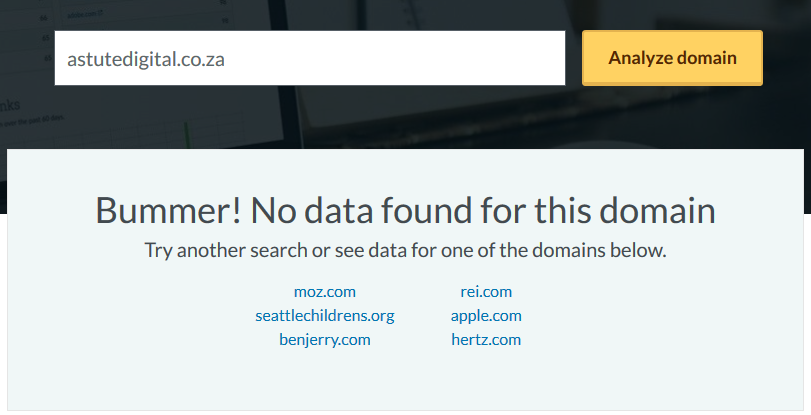 Ahrefs gives us a better picture.
Now for the actual search traffic and performance, we get data from Google Search Console
That's it for the second month of our SEO journey.
In the third month, we go all in creating key content pieces for our blog. These will be the anchor to our linking building campaigns scheduled to start in the fourth month.
Come back in 30 days for the latest update.
Need help with your SEO? Our agency is ready to help – see how we can help: Search Engine Optimisation and Link Building.